Social Media Marketing
Social Media Marketing at its heart is about growing a social media community that is passionate and engaged in what you do. Creating an environment were "raving fans" and word-of-mouth marketing can flourish.
One of the great values of social media marketing for business is its immediacy. You get results and feedback on your marketing initiatives instantly.
Watch your community grow with each new update. Getting immediate confirmation when something is working for your audience as they spread your message through their own network.
Social Media Marketing is measurable. What ever you want metrics on can be tracked, monitored and analysed. Giving you greater insights into your audience's genuine behaviour and feelings. Revealing how they truly feel about your brand, products, customer experience and value proposition.

Australian Bank Sees The Value of Social Media for Businesses
National Australia Bank head of business development for small businesses Tim Armstrong said the bank viewed the offering of social media services as a smart move to add value to existing customers but also to entice other small businesses to sign on with the bank.
He said customers had regularly earmarked social media as an area they struggled to tackle properly.
"Social media can give small business quite a powerful voice in comparison with other marketing but the business owners need help. Generally, they are pretty good at running the income-generating aspects of their business but they don't know much about things like Facebook."
Australian Social Media Engagement in Numbers
Sensis published a Social Media Report in May 2015. Titled 'How Australian people and businesses are using social media" (you can read or download it here).
It's important for you to know just how much opportunity you're missing if you're not Social Media Marketing. So here are the numbers Sensis gathered about where and how Australian's are using social media.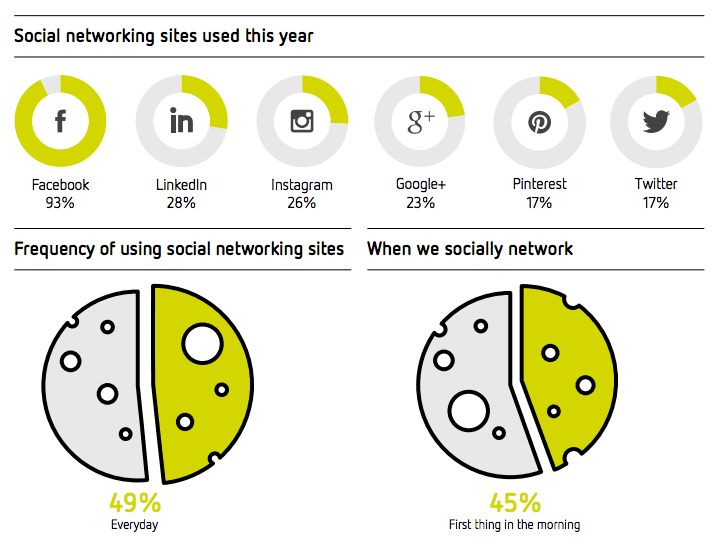 Never fear… the great thing about social media is that it's OK to be a late-comer. It's so dynamic, that with the right strategy and tactics you can gain momentum fast as well as dominate.
Build your social community with Social Media Marketing. Call (03) 9419 9773